An O'Reilly Senior Living Community
Independent Living, Assisted Living & Memory Care
O'Reilly Development Company purchased land in Kansas City, Missouri for a senior living community called The Madison. The development is conveniently located off of Missouri Highway 150 and Wyandotte Street at the northeast corner of 141st Terrace and Madison Avenue. The continuum of care senior community is positioned as the premier senior living option in the Southwest Kansas City area.
The community consists of 90 independent living units, 44 assisted living units and 16 memory care units with full community services and amenities. All buildings are fully self-sustaining but enjoy some combined amenities to enhance the services and amenities to all.
The 90 independent living units are comprised of (14) studio apartments, (42) one-bedroom units, and (34) two-bedroom units. The independent units are housed in a three story lodge-style building consisting of community common areas, offices, commercial kitchen, beauty shop, and exercise and social rooms. All units have fully equipped kitchens and include washer and dryer units.
The 44 assisted living units offer private apartments for seniors requiring hands on personal care services. It consists of (28) studio units and (16) one-bedroom units.  There are (4) double occupancy rooms.
The 16 memory care units designed for the safety and comfort of cognitively impaired residents include walk-in showers, height-appropriate fixtures such as toilets and sinks, and locking cabinets to protect residents from harm. The common areas feature an open design including dining and living rooms. Life stations designed to engage through triggering memories of tasks ingrained throughout their life are also included such as nursery care and nurturing, wardrobe to promote grooming habits and work station for a sense of purpose and accomplishment. Nurse stations provide a hub for care partners and nurses to conduct care updates and paperwork.
The memory care portion provides complete licensed care for Alzheimer and dementia residents including all meals, life safety equipment / notifications, nursing assistance and medication administration.
CONTACT THE MADISON

14001 Madison Avenue
Kansas City, MO 64145
Phone | 816-627-1726
Website | The Madison Senior Living
Managed By | Arrow Senior Living
WATCH OUR PROGRESS ONLINE!
The Madison Senior Living (Kansas City, MO)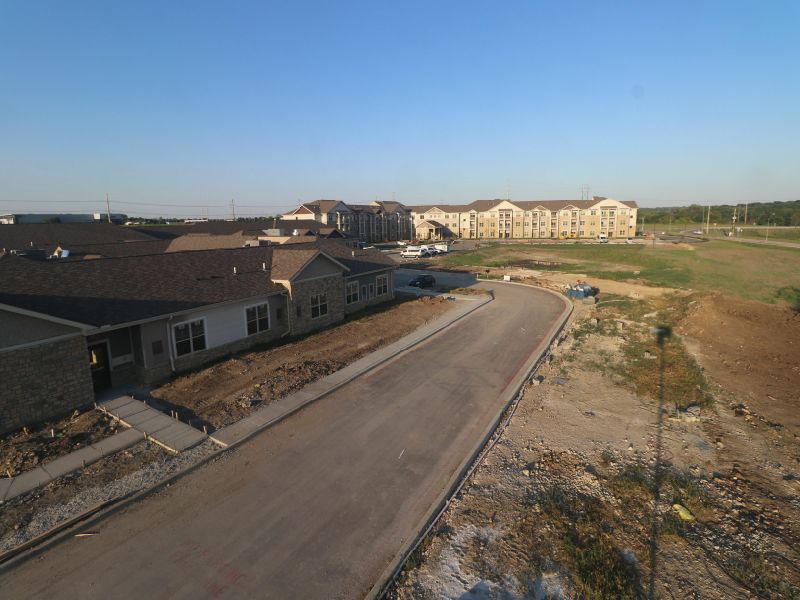 Utilizing jobsite camera technology, our team and partners can monitor progress online. Visitors can view images taken from an onsite camera to watch the development as it begins to take shape.
To view the construction time-lapse camera, click here.